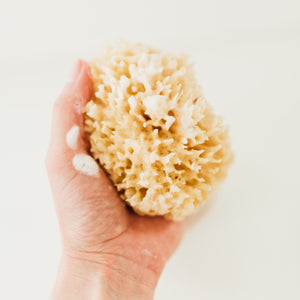 Wool Sea Sponge
Regular price $14.99 Sale
Our wool sea sponge is the most popular of all natural sponges. It is of the highest quality, most durable, the softest, most pliable and absorbent sponge available. It's soft lambs wool type texture makes it perfect for bathing and showering. Allow to thoroughly dry between each bath or shower! Not only are they beautiful they are functional too!

Our sea sponges are large! They measure roughly 5 inches and fit nicely in the hand. 
Sea Sponges for Skin Care
Sea Sponges:
are highly absorbent
create a luxurious lather
are exceptionally soft and gentle
do not retain odors
contain enzymes that inhibit mold and bacterial growth
last longer than synthetic sponges
are useful for all skin types, even sensitive skin
are hypoallergenic
Sea sponges make your cleanser foam more than usual so please use less cleanser. They soak up and hold alot of water without dripping. They can be used on their own to cleanse your skin if you are sensitive to soap or other body cleanser. 

Fully compostable.