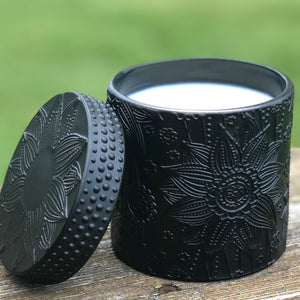 Coconut Wax Candle, 9 oz Ziva Matte Black
Regular price $28.00 Sale
Encapsulating the beauty of the lotus flower, our Ziva vessel is an impressive piece to add to your collection! The lotus symbolizes beauty and spirituality in several cultures and religions of the world. We are proud and honored to be able to offer such a gorgeous, classy coconut wax candle to the world! Our lotus candle jar can also be used to hold brushes and trinkets after you have loving depleted the wax. It's quality is evident by it's weight, and comes with the inclusion of a matching glass lid. 
♻ please recycle the packaging/jars/tins our candles come in or return them to us and we will recycle them for you
Scent Notes
Humidor: pipe tobacco with hints of vanilla and cedar. Exactly like a trip to grandpa's house!