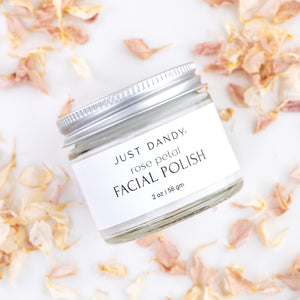 Rose Petal Facial Polish
Regular price $18.00 Sale
Every good facial regime requires a gentle exfoliating facial polish! 

Our Rose Petal Facial Polish is used to slough off those dead and dull skin cells that cover the top layer of your facial skin. These dead cells can lead to clogged pores, uneven skin tone, dark spots, dryness and wrinkles. Our facial cells are continually shedding on their own; but the rate at which this happens significantly slows down due to our age, hormonal changes and environmental stressors. Exfoliation is a very important step in your skin care regime. 
Your delicate facial skin can be subject to micro-tears from harsh physical exfoliants seen in many commercial products. These micro tears allow surface bacteria to enter the deeper layers of your skin and can cause long term inflammation. Inflammation is the root cause of all skin concerns from ageing, to acne, to sensitivity. 
Over the years we have tried all forms of physical exfoliants (walnut shell powder, apricot shell powder, etc) and have concluded that your polish should not feel like 80 grit sandpaper to achieve safe and effective exfoliation. To avoid micro-tears we use extra fine pumice powder as our physical exfoliant. Not only is it easily renewable, it is also mild and gentle! In fact, our facial polish is gentle enough for all skin types; including sensitive skin. There is no artificial fragrance in our facial polish. This creamy white polish will contain darker specks throughout, this is the pumice and is perfectly normal. The polish rinses away easily and leaves your facial skin feeling soft; never dry or tight. 
Directions for Use: Cleanse skin with our Rose Petal Foaming Facial Wash, rinse well, leave skin damp. Gently massage a dime sized amount onto face using upward circular motions. Polish entire face, avoiding delicate eye area. Rinse well. Follow with rose toner, facial cream and sunscreen. Use 1-2 times weekly. Using an exfoliating polish more often than directed will only lead to over-exfoliation and skin irritation.
Ingredients: aloe vera leaf juice*, rose damascena hydrosol*, cetyl alcohol, stearic acid, extra fine pumice powder, vegetable glycerin*, sunflower oil*, mango butter*, gluconolacctone (and) sodium benzoate**
* = Certified Organic   ** = Ecocert and Cosmos Approved
Discontinue if rash or irritation develop.