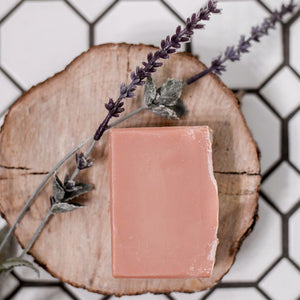 Pink Clay + Silk Bar Soap
Regular price $12.00 Sale
This pretty pink bar is loaded with organic aloe vera leaf juice, organic olive oil, organic shea butter and organic jojoba oil and makes a fantastic shave bar! 
The pink clay and added silk amino acids help create a lather that is luxurious, cushiony and has great razor glide! Scented only in organic essentials oils of rosemary, geranium and palmarosa this bright uplifting scent will make your next shaving experience divine!
Ingredients: Organic Coconut Oil, Organic Aloe Vera Leaf Juice, Organic Apricot Kernel Oil, Organic Olive Oil, Organic Shea Butter, Sodium Hydroxide, Organic Jojoba Oil, Organic Castor Oil, Pink Clay, Silk Amino Acids, Organic Essentials oils of Rosemary, Geranium and Palmarosa.
Net wt. 4 oz ~ 113 gm