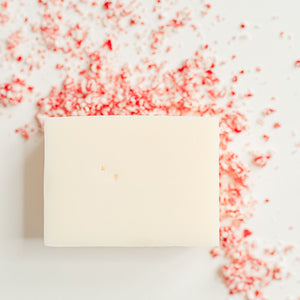 Peppermint Essential Oil Bar Soap
Regular price $10.00 Sale
This bar soap is hand crafted using organic plant-based ingredients and USDA certified organic essential oils. This bar is naturally colored; no additional colorants are added. A lovely soap for your morning wake-me-up shower! This is also our number one seller for Christmas!
Each bar comes wrapped in recyclable waxed paper with a paper label. 
Peppermint Aroma. Strong, bold & minty.
Ingredients: Organic Olive Oil, Organic Coconut Oil, Distilled Water, Organic Sunflower Oil, Sodium Hydroxide, Organic Shea Butter, Organic Cocoa Butter, Organic Castor Oil, Organic Peppermint Essential Oil
To use: Bring your bar to a rich lather and use daily as needed on wet skin for cleansing. Avoid the eye area. Allow your handcrafted bar soap to dry fully between uses. Please discontinue if rash or irritation occur.  
Net Wt. 4.5 ounces
♻ please recycle the packaging our products come in or return them to us and we will recycle them for you
***As with all essential oil products, please respect their wonderful power. If you are pregnant or nursing, have a seizure disorder, or will be using this on children under 10, please consult a doctor before using. If you have any allergies, please consult ingredients listed above. It is also always a good idea to do a small patch test of any new product before using. This product is not intended to diagnose, treat, cure or prevent any disease and has not been evaluated by the Food and Drug Administration.***