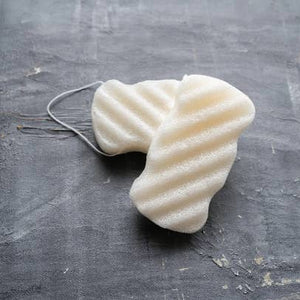 Konjac Body Sponge
Regular price $10.00 Sale
100% natural, made from the Asian Konjac plant, also known as yam cake in Japan.
The sponge cleanses whilst balancing the skin's pH levels with its natural alkalinity. Konjac sponges were first created as a way for Japanese farmers to cleanse a baby's skin. They're extremely gentle and completely compostable and biodegradable when you have worn it out.
Benefits of a Konjac Sponge:
- Packed With minerals & antioxidants
- Extremely soft & gentle for your skin
- Sponges are 100% biodegradable
- Made 100% from natural plant fibre
1. Rinse sponge under warm water and allow it to soften and expand
2. Apply soap or cleanser of your choice
3. Rub gently on face and/or body
Care Tips: Rinse with warm soapy water after each use and allow to air dry. It will naturally re-harden.