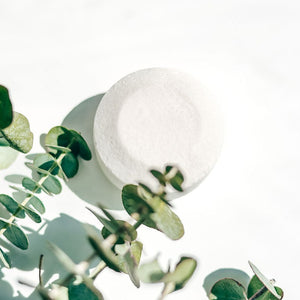 Eucalyptus Menthol Shower Steamer
Feeling congested? Have you tried an aromatherapy shower steam? Our popular shower steamers make your everyday shower feel like a spa at home! These steamers burst to life once they come into contact with water in your shower and release an exhilarating, soothing vapor that will open your sinuses and leave you feeling refreshed! These are a must have to keep on hand during cold and allergy season to help relieve sinus pressure. 
Directions for use: Remove steamer from it packaging. Place steamer on the floor of the shower out of the direct water stream. The steamer will activate as your shower water hits it and begin fizzing and foaming. I have found it best to place the steamer opposite of the shower head thus allowing my body to block most of the water. You. can also set it on a shower shelf and place some water on it to activate the fizzing action! It's that simple. The steamer will do the rest. Inhale the eucalyptus and menthol vapor and let the warm water of your shower soothe your senses.
THIS IS NOT A BATH BOMB! Please use this in your shower only!
Ingredients: Baking Soda, Citric Acid, Menthol Crystals, Isopropyl Alcohol, Caprylic/Capric Triglycerides, Eucalyptus Essential Oil
*** Eucalyptus essential is not recommended for use by children age 10 and under. Please use only with adult supervision.
Slip warning; take caution when exiting the shower. Do not step on the shower steamer.