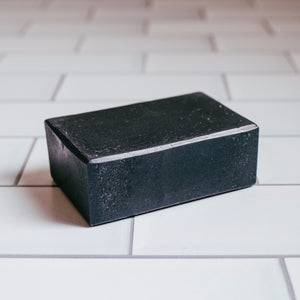 Charcoal Face + Body Bar
Regular price $10.00 Sale
Our activated charcoal soaps are hand crafted using gentle organic botanical ingredients. These bars area ideal if you suffer from oily facial skin or desire an occasional detoxifying facial wash! But why charcoal you ask?
Charcoal has so many skin benefits! It is well known and loved in the cosmetics and body care world for its detoxifying benefits. Activated charcoal in soap is wonderful for problematic oily skin. The charcoal acts like a magnet and gets into your pores to really deep clean! It pulls out bacteria, toxins and pollutants and then rinses away easily. 
Whether you have troubled skin or just want to enjoy an occasional deep cleansing of your pores this soap is for you! 
The lather will be a light grey and the longer you massage it on your face or body, the better results you will have. Be sure to rinse thoroughly. Take care with white washcloths or towels so the charcoal does not stain them! Or...buy one of our very own custom hand knit black or grey washcloths while you are here shopping!
Our bar soaps come packaged in recyclable wax paper. 
Ingredients: Organic Aloe Vera Leaf Juice, Organic Coconut Oil, Organic Palm Oil, Organic Sunflower Oil, Sodium Hydroxide, Organic Shea Butter, Organic Castor Oil, Activated Charcoal Powder, Organic Essential Oil (will vary depending on which scent you select)
To use: Bring your bar to a rich lather and use daily as needed on wet skin for cleansing. Avoid the eye area. Allow your handcrafted bar soap to dry fully between uses. Please discontinue if rash or irritation occur.  
Net wt. 4.50 ounce
♻ please recycle the box our soap bar comes in or return it to us and we will recycle it for you