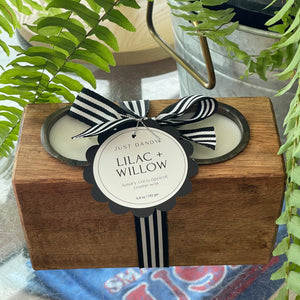 Sugar Mold Candle
Regular price $22.00 Sale
This adorable sugar mold candle features two refillable metal candle cups and a rustic wood body.
Scent Descriptions
French Lilac: this scent captures the serene beauty of a field of lilacs in peak bloom. This floral fragrance contains notes of green leaves, lily of the valley, and honeysuckle blossoms that enhance the alluring bouquet of French lilacs.
Sweet Grass: the aromas of fresh cut grass, garden herbs, and wildflowers all married together. Top notes of green grass and bergamot give the scent a crisp outdoorsy-ness. Aromatic lavender and sage elevate the herbal aspect of the scent, while watery cucumber balances the hint of violet. The fragrance has a touch of oakmoss in the base that adds depth to this fresh and green scent. This spring fragrance is infused with herb and citrus essential oils including basil, eucalyptus, peppermint, lemon, and orange.
Ginger Peach: juicy Georgia peaches with a hint of ginger make this the perfect spring scent
Lilac + Willow: this scent blends notes of blue willow, water lilies, lilac blossoms, linden blossoms, wild bamboo, magnolia fields, mandarin leaf nuances, and subtle musk together into a delightful rendition of the traditional lilac fragrance. This was a customer favorite last spring!