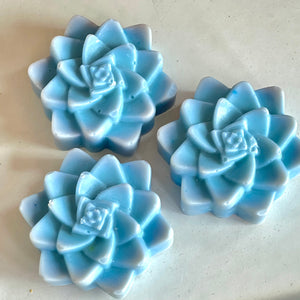 Succulent Soap
These soaps are almost too cute to use....almost! You will love the creamy bubbly lather that comes from all those yummy organic ingredients listed below!
These soaps come in a lightly waxed paper bag with a paper label. Happy plastic free July!
Ingredients: Organic Aloe Vera Leaf Juice, Organic Palm Oil, Organic Coconut Oil, Organic Shea Butter, Sodium Hydroxide, Organic Olive Oil, Organic Caster Oil, Fragrance, Mica
The scent of these succulent soaps is one of my all time favorites!
Scent Description
Moon Flower: Sweet, delicate white floral notes intertwine with fragrant jasmine, the precious scent of sweet pea and peppery freesia notes. Golden amber, tart berries and the incense aroma of sandalwood blend together to enhance and complete this delightful summer fragrance.