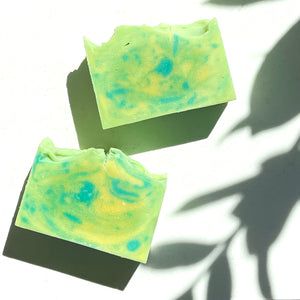 Lemon Eucalyptus Essential Oil Bar Soap
Regular price $10.00 Sale
With the soothing properties of organic aloe vera, organic shea butter and rich hazelnut oil this bright and cheery soap offers up luxurious lather with a creamy feel! I am currently loving it for shaving my legs!
Small batch of nine now available! Each bar comes wrapped in recyclable waxed paper with a paper label. 
Ingredients: Organic Aloe Vera Leaf Juice, Organic Sustainable Palm Oil, Organic Coconut Oil, Organic Shea Butter, Sodium Hydroxide, Hazelnut Oil, Organic Olive Oil, Organic Castor Oil, Organic Lemon Eucalyptus Essential Oil, Mica
To Use: Bring your bar to a rich lather and use daily as needed on wet skin for cleansing. Avoid the eye area. Allow your handcrafted bar soap to fully dry between uses. Please discontinue if rash or irritation occur. 
Net Wt. 4 ounces